Perfect Entertainment for Kids Parties!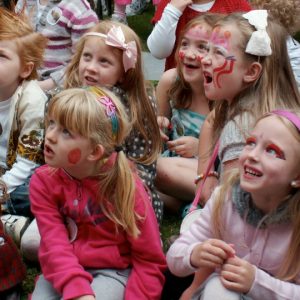 So you've tried the party clowns, party face painters, magicians, and balloon modellers for your kids birthday party, so why not have something different like a puppet show? Our birthday party puppet shows can be performed in your own home or any other venue you choose! The Puppet stage (booth) is compact and fits into most living room spaces. Of course your garden is another possible place to have the show, weather permitting. We never use pre-recorded voices for our shows, so our performances are completely interactive from beginning to end. The shows available are…
Our shows are suitable for everyone and are specifically adapted to the age of the Birthday Girl or Boy. We do not include anything scary in our shows as we concentrate on audience participation and laughter!
The shows duration is 45-50 minutes minimum, longer our shorter shows can be arranged if required. Our fee is €150 plus travel and tolls from Carrick on shannon See our quick quote form below (scroll to end of page for an instant calculation) Prices can sometimes vary according to time of year and location. The rate quoted on this page is for private birthday parties only.
Some handy tips on organising your child's party…
We all want the best possible party for our child's special day, with all the trimmings sweets, games, cake, live kids entertainment and presents! But to guarantee that all these elements go smoothly, it's very important to have every element occur in the right order, to insure the smoothest and therefore the most enjoyable party for all involved and we mean ALL involved.
For instance if you like to give out noise-makers (you know those plastic tubes that unfurl when they're blown into)  these can interfere and distract from the live entertainment, so maybe give them noise makers later. Balloons also can be a distraction so we suggest that yould hold them off until after the entertainment (such as Custard Pie Puppets).Our shows are all about being interactive with the audience so it's best if possible without noise-makers and 'free range' balloons in the room at the same time as the performance!
It's about getting the most enjoyment possible out of the party not to mention, value for your hard earned money! We suggest organising your party something like this…
3pm: Children arrive with presents which you put away to be unwrapped later.
Allow them to chat and mingle, just like you would at a grown up party, maybe a light savoury snack and a small drink preferably nothing to sugary, they'll get loads of that later! You could have a Disco with kids music (theres loads you can download or stream from the internet) Remember, no noise makers or balloons yet!
3.30 Your main event starts. Naturally we recommend a Custard Pie puppet show (45 minutes)
We encourage the grown ups to sit and enjoy the show too as a pleasant shared experience!
4.15 Time to serve the food and of course the all important birthday cake!
They all gather around the table for the birthday feast and chat about the wonderful puppet show!
4.45 Okay. You can give them the noise-makers now!
Let them have a run in the garden weather permitting, or party games such as Pass-the-Parcel, Musical Chairs, etc.
5.00 Ding-Dong is that the door?
Distribute party-bags as the children are collected by their chauffeurs!
Congratulations! You have just completed a successful, hassle free… "Best-Birthday-Party-EVER!"
Quote
Please use the form below to get a quote for a show